No doctor's referral required
The client is always in focus at KuhreFysio and we are treatingand working with your specific needs. We work manually with several different techniques, mobilization, manipulation, massage etc. and provide exercises you can do at home. We are up to date on the latest research in physiotherapy and treatment so by. 
You're in safe hands at KuhreFysio
KuhreFysio is your physical therapist clinique committed to dealing with injuries, guidance, prevention of injuries and treatment. We're a team whose qualifications and skills cover the entire range of our profession.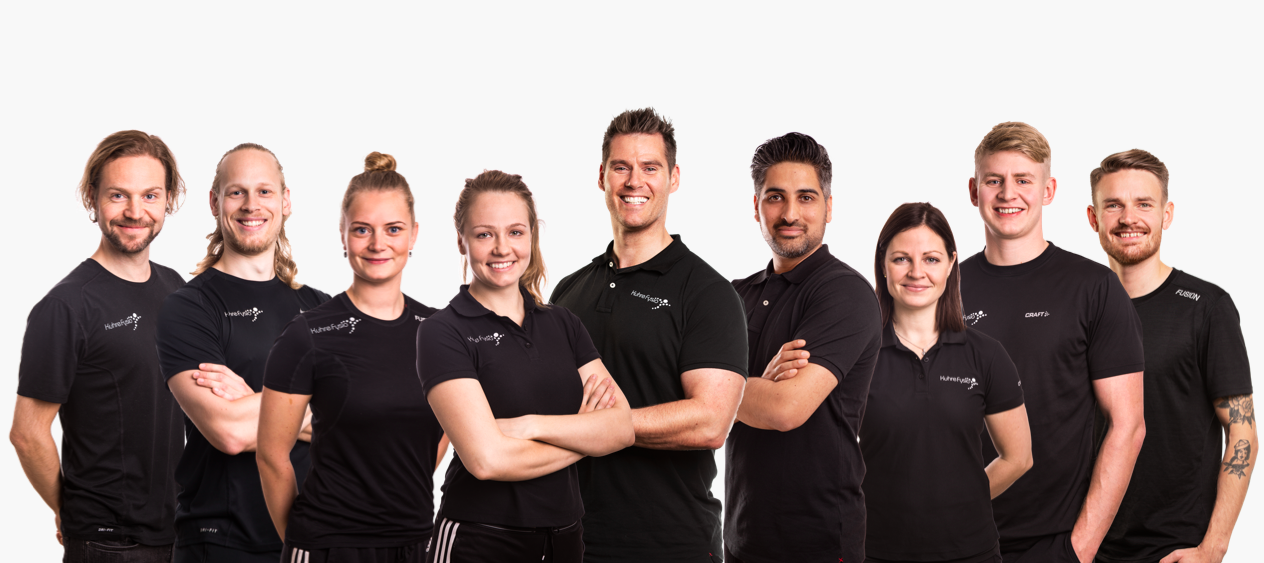 1
Anne Felskov
Authorised Physical Therapist
Specialized in pregnancy
2
Mette Kuhre
Authorised Physical Therapist
Examed Sports physical Therapist
Osteopath student. 2nd year of 4 years
3
Lasse Lefevre
Authorised Physical Therapist
NADA ear acupuncture
Neck, stress and headache
5
Andreas Reenberg
Authorised Physical Therapist
Sports physical Therapist Student
Personal trainer
6
Authorised Physical Therapist since 2011
Osteopath student. 2nd year of 4 years
7
Jeppe Kjær Høvsgaard
Authorised Physical Therapist
Sports physical Therapist Student
FIFA Diploma in Football Medicine
8
Martin Johanssen
Authorised Physical Therapist
Personal trainer
Studying master of Physical therapy
In need of a Physical Therapist?
KuhreFysio offers:
Treatments against back pains – from neck to lower back, shoulders, elbows, feet etc. You'll receive a thorough examination, effective treatment and will feel a difference. Exercises are optional.
Specialists in sports injuries in children and adults. We have a holistic view of the body and find the cause of your problem. You will always be treated manually, and be given exercises if needed and guidance.
Massage is restorative, nice and effective against stress, overloaded muscles, etc. We do deep offer massage to give you optimal treatment.
Osteopathy is a holistic, manual therapy based on traditional health sciences, such as anatomy, neurology, physiology, biomechanics, embryology and pathology.
NADA (National Acupuncture Detoxification Association) is a supplement to your treatment. Ear acupuncture physiologically affects your hormones, transmitters, endorphins and cortisol in the body. Eg for stress.
For acute and chronic injuries and problems with superficial or deep treatment effect. Increase blood circulation, add more oxygen to the area, increase metabolism in the cells and increase the healing process. Decrease the sensitivity of the nervous system and thereby reduce pain.
We dont require a referal of your doctor, to be treated at KuhreFysio – same price, same subsidy from Sygeforsikring Danmark, no extra fees! KuhreFysio is a independent clinic.
First konsultation/treatment

500,-
Prices includes everything, tape, therabands, acupucture, k-laser etc.
Treatment by a physiotherapist or phys.stud. with extra courses so you are in safe hands. Only on Rolfsvej.


Group exercise 55 mins

150,-
Prices includes everything, tape, therabands, acupucture, k-laser etc.
Reduce weight, Build up muscle, Optimize cardio / Performance and Prehab / Rehab. * Only in Frederiksberg Hallen, Jens Jessens Vej
Deebtissue sportsmassage by phyiocal therapy student
this applies at first treatment and DKK 88 afterwards *
KuhreFysio offers a wide range of treatments,
Read more about our treatments
For students we offer 10% discount on many of our services
Times are indicative as we can be on hometreaments